The following special needs basset hounds have been rescued by Basset Hound Rescue of Georgia, Inc. and are available for adoption to the right home.
If you are considering adopting one of our bassets, please review our adoption process and submit an adoption application.
Last Updated: August 23, 2023.
Bogey
Bogey is a red and white fellow who recently had a mast cell tumor and hemangiosarcoma removed. The vets did get clean margins on both, but his undercarriage is riddled with hemangiosarcoma spots.
Bogey's Sponsors
Eric & Susan Restin - Alpharetta, GA. In loving memory of Polly.
You can also sponsor a Basset Hound in need through our Georgia Peach program.
Evita
Evita is 8 years old. She has been around children but is not anxious to be with them. She doesn't respond to their attempts to play with her. She will keep her distance around anyone new. She hasn't warmed up to many and it's taken a long time for her to feel comfortable around them. She is easily startled by sudden sounds and movements. Evita doesn't tell you, as she seldom makes a sound, when she has to go outside, but will, most times, show you by walking or running and waiting at the door. You have to keep an eye on her. She has had an occasional accident. There are times she has to go out at any hour of the night. She will walk, or trot around in hopes someone will hear her or see that she wants to go outside before she heads for the door. Evita has ongoing medical problems that require frequent vet checks. She suffers from infections of her ears, eyes, and skin and joint pain. All must be treated once or twice a day with prescribed pills, ointments, mousse, and cleansers. Medicated baths are required every week or two. She also had a cancerous nodule removed and she is checked regularly for that but no other treatment needed has been required. Adoption Pending!
Evita's Sponsors
Clark & Darlene McDonald - Johns Creek, GA. In honor of Honey and Satchmo, our rescued bassets, who have crossed the Rainbow Bridge.
You can also sponsor a Basset Hound in need through our Georgia Peach program.
Sully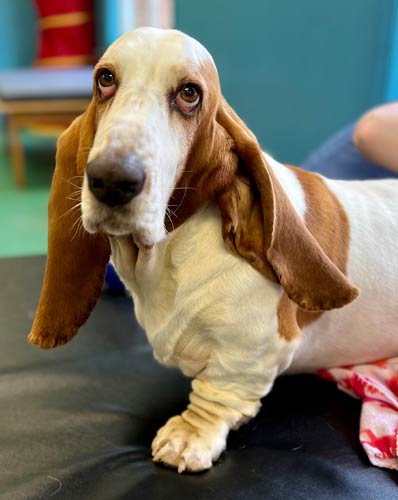 Sully is a red & white boy who was picked up as a stray by a local animal control. Since his owners never came forward, he found himself in BHRG's care. After an MRI, it was determined he has Spinal Arachnoid Diverticulum which is a spinal disorder possibly caused by trauma or genetics. This disorder affects his movement as he is uncoordinated and is ataxic in all 4 legs. Surgery is not an option. He is not in pain from this condition, but it will not get better.
Sully's Sponsors
Andrea White - Port Saint Joe, FL. In honor of Scarlet.
Sherry Laemmermann - Canandaigua, NY. In honor of Lucy, the basset love of my life.
You can also sponsor a Basset Hound in need through our Georgia Peach program.