2022 Spring Fling - Mission Impawsible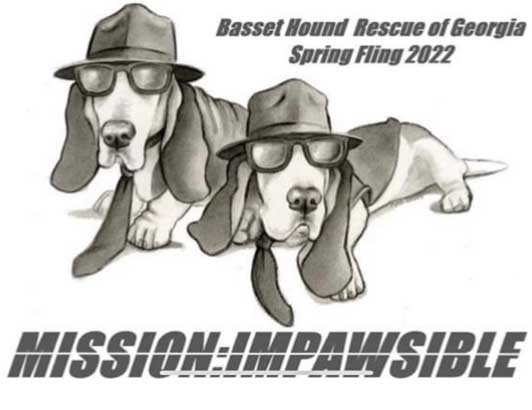 Our 2022 Spring Fling Dinner Auction was held at the Reid Barn in Cumming on April 30th. It was a huge success for the bassets! We can't wait for the 2023 event!
Thank you to 2022 Spring Fling Coordinator, Julie Hall, and her team:
Kelley Craven
Stacey Fuller
Rosemary Glennie
Cheryl Kellner
Tim Maret
Sheri Ray
Toni Strawn
Marci Thomas
---
Thank You 2022 Event Sponsors!
Secret Agent Sponsors
Ferguson Foundation
Chuck Grissom
Jim & Marjorie Holler
Double Agent Sponsors
Wendy Grissom in Memory of Kristin Echelbarger
Hound E's in Memory of the Best Dog Mom Ever
Anglin Pups
Undercover Agent Sponsors
Debbie's Dawgs
Tracy and Gary Perry
Alan and Leslie Wolfe
Melanie and Tony Aguto
Arlene Veldhuis
Safehouse Sponsors
Howard and Claire Cohen
Senior Houndsabound
The Thomas Hounds
The Pirkles
Dave and Toni Strawn
Jim and Sandi Chambers
Alan and Anne Taetle
Melissa Legg and Rick Reeves
Melanie and Tony Aguto
Shallowford Animal Hospital
Mole Sponsors
Chris Benise
Pam Mishler
Linda Gregory
April and Matt Foust
Courtyard Atlanta Buckhead
Liberty Snyder
Howard and Claire Cohen
Kristin Echelbarger Memorial Sponsorship
Abigail Davis
Amanda Stachiewitz
Carole Hoke
Christine Waldman
Chuck Rob
Gail Wilson
Jeff and Cindy Middaugh
Josie Panaligan
Logan and Melody Gray
Marci Thomas
Melissa Legg and Rick Reeves
Monica Celizic
Rande Fogelman
Sheila Peeler
Tami and Stephen Pirkle
Toni Strawn