Of course, all your donations are tax deductible and all proceeds benefit homeless hounds in Georgia. If you mail your gift, please be sure to identify the items on a piece of paper that also includes your name and address so we can send an acknowledgement to you.
Types of Items Needed
Live Auction
We will have 12 items in our live auction. We are looking for donations of timeshares, use of a vacation home, experiences such as sky diving, frequent flyer miles, rounds of golf at a country club, original art and tickets to sporting or arts events.
Silent Auction
We are also asking for other donations and would love donations of unique smaller art pieces such as pottery or sculptures, spa baskets, handmade items and other pieces.
Gift Card Palooza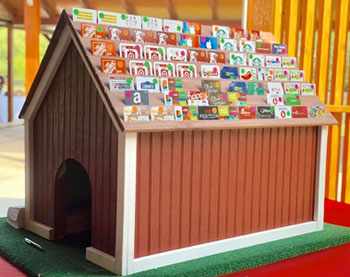 Our gift card palooza goes virtual this year. We need gift cards in $25 denominations. Some of our best sellers are Kroger, Publix, Amazon, Home Depot, Lowes and various restaurant groups. Perhaps you received a gift card during the holidays and haven't used it or maybe you simply want to donate some we would appreciate it.
When donating gift cards please make sure that the stated value is still the value on them and if the card does not have a stated value, please put it on the card with a Sharpie.
You can mail them to:
Marci Thomas
177 Mountain Vista Blvd
Canton, GA 30115
---
Cash Donations
Don't have an item to donate? No time to buy a gift card? Please consider making a cash donation to the Spring Fling, and we can purchase items for auction! Just use the PayPal button below. Thank you in advance!
---
Item Donations
Please complete the form below and one of our volunteers will contact you about your donation. Thank you!
---
Donation Contacts
Please contact Marci Thomas about donations, and we will work with you to pick them up. In order to prepare the auction catalog we will need your donations by April 1, 2021. Thank you so much for making our event possible.